Escape Room Like Activites Near Me
( axe throwing, rock climing, dodgeball archery and more)
So by now you have probably tried an escape room or two. If you have not then what are you waiting for? Escape games bring out skills you didn't even know you had. However, these exit games are not all created equally. A good game will help you feel both dumb and clever at the same time and get your whole group involved no matter their skills or personality type. As you try to make a break out of your situation we know that while playing you may have felt an adrenaline rush or the same rush people feel when they play slot machines and almost win. You may ask what else can give me that feeling? Situation Room has been providing this rush to Downtown Macon Georgia and the surrounding areas since 2016. Perhaps you are a very cool-hip gamer and are current on all of our latest games and jonesing for a fix. Good news is that there are some other venues you can visit nearby to help.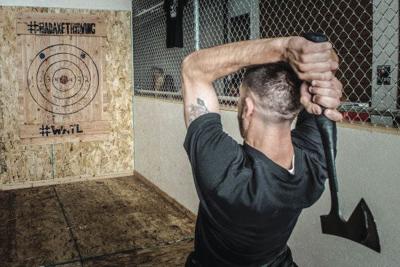 Axe Throwing Macon
A xe Throwing : AXE THROWING. So around Fall of 2018 we started getting a lot of calls and requests for axe throwing but while we considered it our insurance person was in a panic. However, something amazing happened and someone that wasn't us brought the idea of throwing sharp metal objects as entertainment and it wasn't us. As of Winter 2019 there is a new location in Macon Georgia's downtown area actually on the same Poplar Street as Situation Room. They are called Maniaxe Throwing. They are part of the world axe throwing league and prices start at just under $25.00 a person. The idea is very similar to bowling but instead of balls you use axes and instead of pins you have a big target. Most of these types of venues will also offer a complimentary teaching session prior to your lane rental.
Smash Rooms : AKA rage room or break room are a semi newer trend in which you gear up as not to get hurt, grab a weapon of choice and then "hulk smash" everything. This is great for the recent break up when that person left their belongings at your place. Yup those belongings can get smashed. Another way to think of this is similar to the bonus round in street fighter arcade games when you beat up on the car to get extra points except this is real and you are your avatar. The nearest one of these (as of this article writing date) is in Atlanta Georgia. A quick google can tell you what is closest but you are looking to spending anywhere from $10 to $30 on this attraction. ATL Magazine has a list that may help.


Rock climbing : Rock climbing has been around for a while. The reason we feel it is very similar to escape rooms is believe it or not rock climbing has a lot to do with strategy, planning, and teamwork (yes belaying is a very important form of teamwork!). A new Rock climbing Gym is opening down the road from Situation Room again in downtown Macon GA. It is called Macon Rocks Climbing Gym it is slated to open in the fall of 2020. It will be a good addition to our escape room and axe throwing venues that already exist in the city. We are excited about this and hope to build some muscles as a result.
B oard Games : If you like strategy, game theory and the social interaction then you like escape rooms but you probably like board games too. We are not talking about monopoly, we are talking about adult board games. Our friends at Dice Drop Games specialize in the hard to find games that you can purchase. The really cool thing is that if you want to try a game before you buy it they have open Saturday hang outs where you pay a small admission fee of $5 and come in to play games with other gamers in your community. We can't compliment this business enough!
D odgeball Archery : Oh yea! Now this is an idea that at the Situation Room we have brought to Macon. Our insurance provider was very worried but we were able to make this happen. We have highlighted the origin story for Dodgeball Archery Orgin Story on another blog post and actively encourage people to shoot their friends with arrows. The cost is $10 to play and includes a demonstration / practice session prior to your game. Our hope is that enough people become passionate about archery tag and a league can form. In middle Georgia those looking for even more archery skill can check out the Mid GA Archery Club Mid GA Archery Club they will help you improve your technique and performance. This is again another game that is all about strategy as the game rules open enough loop-holes you can definitely assemble a team that can give you total domination. You can find out more on the official Macon Ga dodgeball archery page.

Universal studios theme parks had a motto that was "Ride the Movies" but with the activities above you really can be the main character in the best movie ever made … your own life. It will be easy to role play, have fun and create memories doing all the activities above. If you have not tried our Situation Room escape games yet make sure you give it ago but if you have already conquered our current game selection hit up some of the above options. Macon GA has a lot of new things and a lot of stuff to do nearby and we hope you will patron all of it.

Written by
Brandan Wormsbacher
Situation Room, Co-Founder